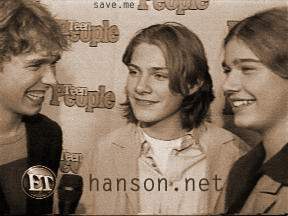 So you're comtemplating getting hanson.net ? Well .. I recently got it .. and its greeeeeeat !! there are soooo many cool things to do .. such as messageboards , postcards you can send to your friends , audio , video's , heeeeeeeeeaps of pictures ( more than i've EVER seen lol ) instant messaging , you can download goodies like screensavers and hanson skins .. its aweeeeesome !! .. you also get 10MB for a webpage !
Whats the best thing you ask ? Well I have to say its an amazing feeling when you actually have an email address with " hanson.net " on the end .. its just .. wow lol .. just do it , guys , i mean if you dont like it , just cancel it .. its only about 15 dollars ( new zealand )a month .. it reeeeally is worth it ..Compared to MOE its SUPER DUPER CHEAP .. MOE is like 65 dollars ( new zealand ) and that my friend ... is a maaaaajooor rip-off lol .. so think .. american dollars is like twice the amount of nz .. think of how cheap it'll be for you =)
well anyway .. just think about it .. its awesome .. if you want to know anymore check out
www.hanson.net
or just email me and i'll tell ya the facts !!
catch ya'll on the flipside !!
poppy@hanson.net